OKC Bar Trivia
Win Prizes. Have Fun.
Get Lost Ogle content sent to your inbox.
After 12 years of entertaining the metro's masses at various bars and restaurants, we're proud to unveil a new name for our free-to-play line of Singo, Jackpot Bingo, and Team Trivia nights.
Please give a warm welcome to Hoot Industries – The Smartest Fun in Town!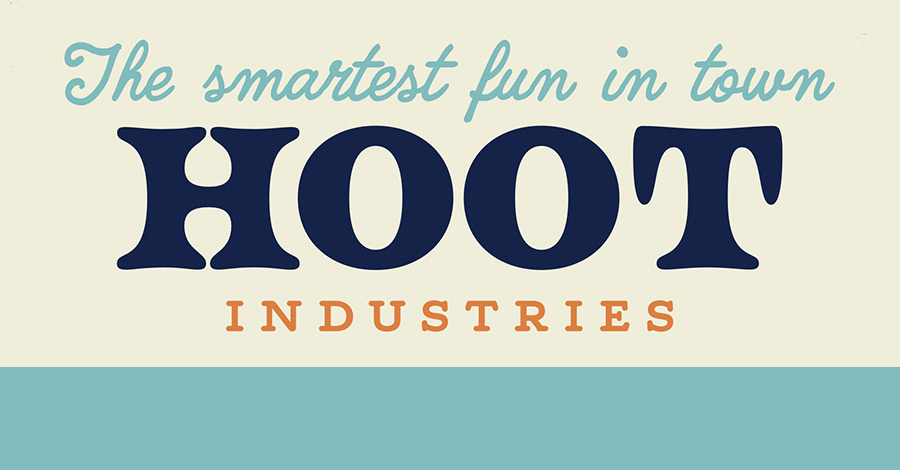 Presented by The Lost Ogle and Anthem Brewing, Hoot Industries is the OKC metro's #1 local provider of FREE Team Trivia, Free Jackpot Bingo and Free Singo nights. Grab your friends and join us for some fun at any of the following bars, restaurants, and watering holes...
Oklahoma City Metro Trivia Schedule:
Monday:
Bar Cicchetti (Deep Deuce) • 8pm
121 NE 2nd St., Oklahoma City, OK 73104
Tuesday:
Fassler Hall (Midtown) • 8pm
421 NW 10th St., Oklahoma City, OK  73103
Solo's Park and Pub (Chisholm Creek) • 7pm
13310 Pawnee Dr., Oklahoma City, OK 73114
Wednesday:
Cock O' The Walk (N. Western) •  8pm
3705 N Western Ave., Oklahoma City, OK  73118
Thursday:
Anthem Brewing Taproom (Farmers Market District) •  7pm
908 SW 4th St, Oklahoma City, OK 73109
(*Closed 3/3/22 for a private event)
Mack & Ike's (Guthrie) • 7pm
(Second & Fourth Thursday of each month)
118 E Oklahoma Ave, Guthrie, OK 73044
Friday:
Buffalo Wild Wings (NW Expressway) •  9pm
4130 Northwest Expy, Oklahoma City, OK  73116
-
Oklahoma City Jackpot Bingo & Singo Schedule
Trivia not your thing? Don't worry! We call letters and numbers, and play songs, too! Swing by any Lost Ogle Jackpot Bingo of Singo night to have fun with your friends! We call a variety of different games, have awesome prizes, and at the end of the night, each standard bingo location has its own cash jackpot! 
Sunday:  Fassler Hall • 7pm (Singo)
Monday:  Fassler Hall • 8pm (Jackpot Bingo)
Tuesday:  Cock O' The Walk • 8pm (Jackpot Bingo)
Wednesday:  Solo's Park and Pub • 7pm (Singo)
Thursday: Solo's Park and Pub • 7pm (Jackpot Bingo)
Thursday: Water's Edge Winery (Moore) • 7pm (Jackpot Bingo)
Friday: Anthem Brewing • 5:30pm (Singo)
-
How Lost Ogle Trivia works and why it is awesome:
• Gather up some friends and form a trivia team! Your team can be be as big (or small) as you like. 
• Bring your team to any trivia venue below and compete against other teams of friends in a live on-site trivia event.
• After four rounds, 21 trivia questions and hopefully a couple of laughs in between, the top three teams take home the following prizes.
Here's more:
• Interactive format! In addition to giving bonus points for whoever gives the first answer, we also let teams and players vote for some of the question categories. It's wild stuff.
• Our artisanal-blend of trivia questions are hand-crafted using only the finest researched ingredients.
• We give hints and stuff like that on Twitter and Facebook! Follow us on the links below for that!l#1
Facebook
Twitter
Frequently Asked Questions:
Q: How much does it cost?
A: It's free. Hence the name Free Team Trivia.
Q: What's up with the new trivia format?
We've updated our trivia format to be a bit more social-distance complaint. As opposed to writing down answers on a sheet of paper and bringing them to us to grade, teams simply designate a captain and text us their responses. We've also added a speed element where we give bonus points to the first team the sends in a correct answer. Outside of that, it's about the same trivia night. We ask questions, teams answer them, and the top three win house cash from the venue. As the world slowly returns to normal, we'll morph back to our classic style of trivia. Then again, maybe we won't. We're playing everything by ear at the moment.
Q: How many players can be on team?
A: There's no minimum or maximum. The only rule is that everyone on a team has to be at the same table. On average, team sizes generally range between 4 – 8 people. Also, it's not the size of the team that matters, but the way you use them.
Q: What types of questions do you ask?
A: We ask a mixed-bag of trivia questions, ranging from traditional categories like geography and history, to topics like entertainment, sex, current events and pop culture.
Q: How long does it take?
A: About two hours or so.
Q: Can't people just use their mobile devices?
A: We try abide by the honors system, but if you see a team cheating, please let us know. 
Q: Do you guys host trivia for private parties or events?
A: Sure we do. Contact us for more information.

New TLO Content